Anne Webber Named Continence Care Champion
Anne Webber Named Continence Care Champion
(October 23, 2006) – National Association For Continence (NAFC) proudly announces its Continence Care Champion (CCC) award to a member of the American Urogynecologic Society (AUGS) for the seventh consecutive year. On Saturday, October 21, during the AUGS Annual Scientific Meeting in Palm Springs, NAFC Membership and Fund Development Manager, Melissa Ross, presented the award to Anne Weber, MD.
Only those clinicians who specialize in incontinence are eligible for the NAFC CCC award. For this particular reward, the AUGS Board of Directors chooses members of their society who possess a lengthy background consisting of medical research, practice and development education related to bladder and bowel control. Thereafter, a specially chosen committee within the NAFC Board of Directors selects one recipient.
Dr. Weber is an expert in urogynecology. She serves as the program director for the Pelvic Floor Disorders Network, spearheading efforts to broaden the OBGYN program at the National Institutes of Health (NIH) and studying diagnosis and treatment for women with pelvic floor disorders. NAFC Executive Director, Nancy Muller, explains, "Dr. Weber has taken intrigue and interest to the next level, by relying on research to frame standards in continence care."  The published works of Dr. Weber include analysis on advancing laparoscopic surgeries for urinary incontinence and pelvic organ prolapse and comparing autologous rectus fascia and cadaveric fascia in pubovaginal sling continence outcomes. She is committed to enhancing clinical practices and improving their quality by modifying conventional methods.
Ingrid Nygaard, MD, AUGS president, enthusiastically reports, "[Dr. Weber] has a level of energy we can all aspire to attain. Because of her dedication to advancing science in the area of pelvic floor disorders, she continuously improves healthcare for women." Before obtaining her current role with the Pelvic Floor Disorders Network, Dr. Weber received her medical degree at the University of Maryland, completing her internship and residency in OBGYN at Hartford Hospital and her postdoctoral fellowship in advanced pelvic surgery at the Cleveland Clinic. She also has a master's degree in clinical research design and statistical analysis from the School of Public Health at the University of Michigan.
Though this award focuses on a notable member of AUGS, various other medical organizations are involved with NAFC's CCC award program as well. These groups include: Society for Urodynamics and Female Urology (SUFU), American Academy of Family Physicians (AAFP), Society of Urogynecologic Nurses and Associates (SUNA), Association of Women's Health, Obstetric and Neonatal Nurses (AWHONN), American Geriatrics Society (AGS), American Physical Therapy Association (APTA), Nurse Practitioners in Women's Health (NPWH), Society of Women in Urology (SWIU), Wound, Ostomy and Continence Nurses Society (WOCN) and, most recently, the Association of Physician Assistants in Obstetrics and Gynecology (APAOG).
American Urogynecological Society (AUGS)
The American Urogynecological Society is comprised of healthcare professionals and scientists dedicated to improving the lives of women with pelvic floor disorders, such as pelvic prolapse and bowel and bladder control problems. By encouraging research and education, AUGS promotes the highest standards of practice in the prevention and treatment of these disorders in an ethical, safe, and effective manner.
About NAFC
For more than 30 years, the National Association for Continence has been the largest and most prolific consumer advocacy organization devoted exclusively to incontinence.  The NAFC is focused on education, collaboration and patient support, as well as increasing awareness of the various solutions associated with bladder and bowel health. The NAFC is a non-profit 501(c) 3 organization. More information is available online at www.nafcpatient.wpengine.com/.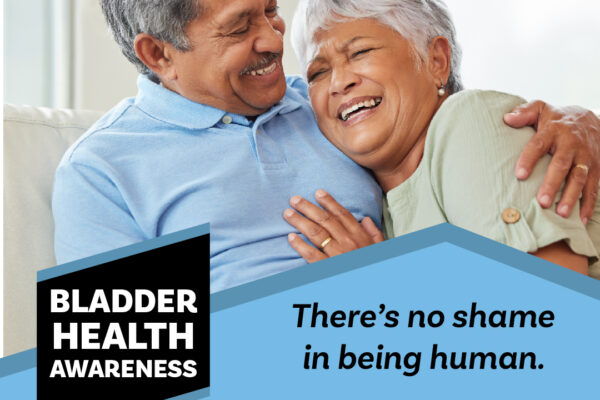 Bladder Health Awareness Month November is National Bladder Health Awareness Month, and the team at the National Association for Continence is launching a major campaign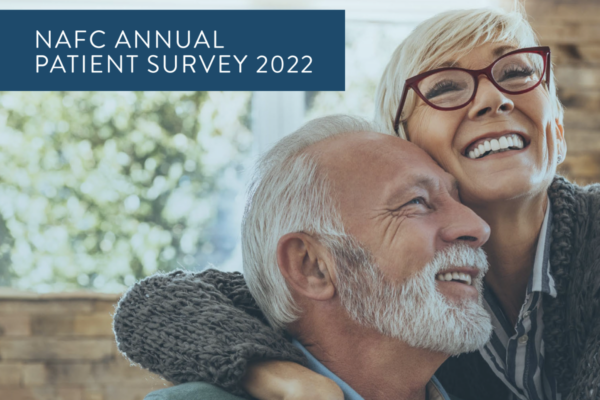 4th Annual Patient Survey As with urinary incontinence,  bowel incontinence is embarrassing and perhaps even harder to talk about. At NAFC, we have worked hard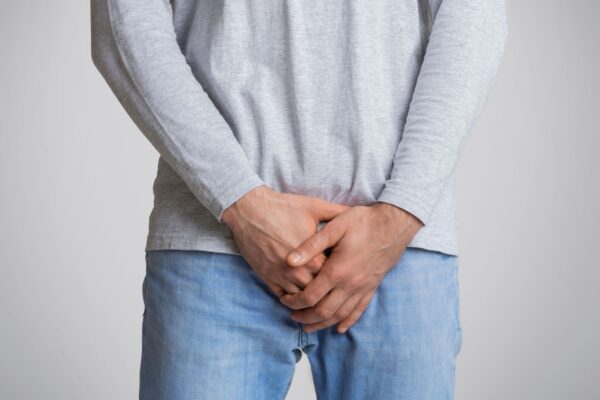 Keeping track of your bathroom habits may seem a little strange at first, but it is a great way for you to see trends over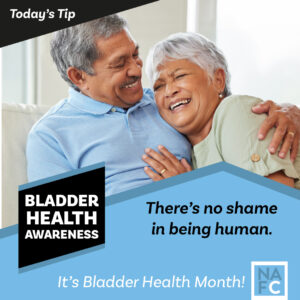 Bladder Health Awareness Month November is National Bladder Health Awareness Month, and the team at the National Association for Continence is launching a major campaign