THE BENEFITS OF MEMBERSHIP
NAFC developed its professional membership program to help bring incontinence-focused healthcare providers together and deliver them the resources and tools they need to provide the best possible care for their patients.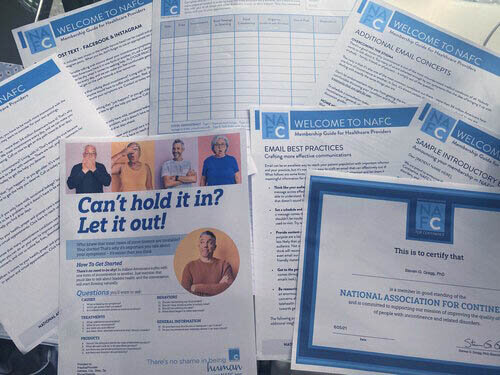 As a part of your membership you will receive a digital download kit that contains a number of useful resources for your practice: brochures and discussion guides, diaries and trackers, posters, questionnaires and more. They've all been created with a patient's concerns in mind, prepared under the direction of leading professionals and formatted for easy sharing electronically or in print. Better yet, most of these materials can be personalized with your practice information, helping strengthen your relationship with the patients you serve.
Your digital kit also includes a marketing guide with strategies and suggestions to help you better promote your own practice and your affiliation with NAFC. We've even included guidance on social media best practices, sample posts and ready-to-use email messages to help you stay connected with your patients.
This year we're making it even more rewarding to be a member, with a number of new exclusive benefits, including;
Membership Directory:

Be featured as a member with a link to your practice

Published Article:

Publish an article or blog on both our patient and HCP websites & in

newsletters

that reach more than 10,000 patients and industry professionals. We can even help you write your article or feature a study you have participated in. 

Your Own Podcast Episode:

Spend 1 hour with us to record your own episode of NAFC's

Life Without Leaks

podcast. We will coordinate with you ahead of time to make sure the material is meaningful to you and the listening audience. Bring your staff, a patient or just yourself to provide helpful information about your area of speciality, promote a new offering,  discuss a new treatment method and more. Plus, we will promote your episode in our newsletters and social media.


Best of all, your membership does a tremendous amount of good for the broader incontinence community. Your donation directly contributes to our ability to deliver useful, up-to-date information to the millions of patients who struggle every day with bladder and bowel disorders. For many patients, NAFC.org is the first place they turn to for accurate, up-to-date information, even before visiting a healthcare professional. For many others, NAFC.org is the place they go after a doctor's consultation to become more informed. Regardless of how, when or why they reach us, your membership ensures that we will continue to be there for them.
Professional Membership : $175
Each NAFC member will be acknowledged and added to our provider database and to our Find A Specialist patient tool. In addition, you will also receive a professional digital membership kit which includes:
A Step-by-Step Guide to Starting Your Incontinence Treatment
Overactive Bladder Brochure
Bladder Retraining 6-Week Program
Guide to Home Hygiene


Doctor-Patient Discussion Guide
Caregivers' Discussion Guide


Bladder Irritants Poster
Overactive Bladder Poster
Time to Talk Poster


Pelvic Floor Health Resources
Provide your patients with turn key pelvic health materials, including a free 6-week guided pelvic health program, downloadable pelvic floor exercise sheets, and pelvic floor exercise videos.


NAFC MembershiP Certificate
An official certificate that can be displayed to feature your practice as a product NAFC supporter.


Marketing Best Practices GUide
Filled with tips and turn-key examples to use in your practice.


Be A Guest On Our Podcast
Join us for a podcast recording where you can tell our listeners about your specialty/practice and provide tips and insights.


Membership Directory Listing
Be featured as a member in our member directory with a link to your practice.


Featured Newsletter Article Or Blog POst Contribution
Share your latest research or work with us to write an article on your behalf. We will share with our readers both patients and HCP.


Click the button above to sign up TODAY. You will receive everything above while ensuring that NAFC remains America's leading advocate for those living with incontinence our caring for others who do.