Become A Center of Excellence
BECOME A DESIGNATED CENTER OF EXCELLENCE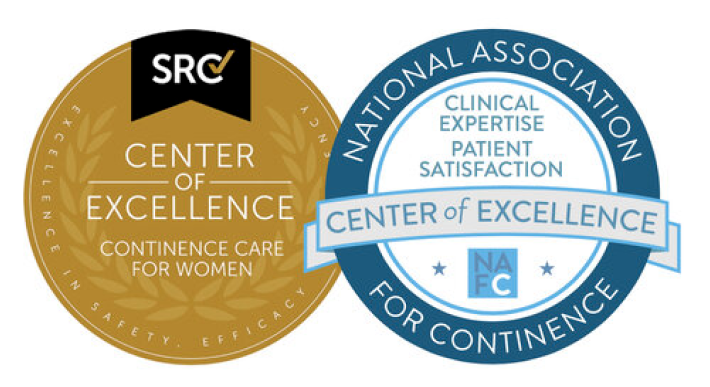 Becoming a designated Center of Excellence (COE) is a mark of high achievement for both the facility and physicians who are awarded the honor. Embarking on the process to become a designated center means that you are striving to provide the best possible care for your patients. Please read through the application steps below which include the general requirements for becoming a designated center.
1. A health care institution, that specializes in continence care for women, together with one or more individual providers complete the application.
2. Upon payment of application fees, provisional status will be achieved. Program requirements will be provided in checklist form, and the applicant will prepare documentation to meet each requirement.
3. A site inspection will be scheduled at a mutually convenient time to review all documentation, tour the medical facility and view equipment, and to speak to provider applicants and support staff.
4. Applicants will be granted Center of Excellence accreditation once successfully completing the site inspection.
5. SRC & NAFC will make a public announcement of fully-approved status and include the COE in a searchable online database for consumers.
6. Site inspections occur every 3 years to maintain Center of Excellence status.
To learn more about pricing and specific requirements, click here.
Achieve
Provisional
Status
//
Prepare For
Site Inspection
Maintain
Accreditation
//
Third Year
Site
Inspection
BENEFITS OF BECOMING A CENTER OF EXCELLENCE
SRC accredits the top hospitals and ambulatory surgical centers in the world. Even the best centers can improve.
The fundamentals of an SRC Accreditation are intrinsic to the delivery of safe and effective patient care. Designees that follow SRC's proven processes and methodologies will increase their case volumes, improve outcomes and reduce complications – results that directly impact the bottom line.
The benefits of accreditation are numerous. A recent survey of SRC designees across all programs listed these benefits after achieving their accreditation. Click to learn more here.
COMMUNICATING ACCREDITATION, RECOGNIZING EXCELLENCE
Accreditation is of little value unless it is properly utilized and communicated. To ensure that designees maximize the benefits of their accreditation, SRC established CARE™, a revolutionary program that provides designees with marketing services and products to give them an edge over competitors, assure patients of the facility's commitment to excellence and ensure a return on their investment in accreditation.
CARE is a multi-faceted, service-based program and portal that offers a wide array of products, tools and services to help designees leverage these benefits. Click here to learn more or call (919) 899-9443.