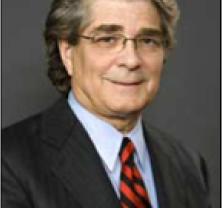 NAFC presented Alan J. Wein, MD, FACS, PhD(hon) with its Rodney Appell Continence Care Champion award at the SUFU 2014 Annual Meeting in Orlando, FL.NAFC's Executive Director, Steven G. Gregg, PhD, presented the award. This award was sponsored by Astellas, a pharmaceutical company dedicated to improving the health of people around the world through the provision of innovative and reliable pharmaceutical products.
Dr. Wein is the Chief of the Division of Urology at the University of Pennsylvania School of Medicine, where he is also a professor. Additionally, he is the Chief of Urology at the Hospital of the University of Pennsylvania, as well as the Director of the Residency Program in Urology at the University of Pennsylvania at the Hospital of the University of Pennsylvania. Dr. Wein has authored or co-authored more than 880 articles and chapters, and edited or co-edited 28 books. He has been an editor of Campbell-Walsh Urology since 1992, and is currently the editor-in-chief. His extensive experience in the field of urology has afforded him the opportunity to participate in numerous invited academic activities, meetings, and courses as a speaker, faculty member and chairperson.
Dr. Wein is very active in the clinical research world, and publishes his own research on multiple topics. He primarily conducts research around urologic cancer (prostate, bladder, kidney, testicle) and voiding dysfunction, but also studies urinary incontinence and interstitial cystitis. He is seen as a leader in clinical research and publishes his findings very frequently.
"Alan Wein has been a leader in the field of urinary incontinence, voiding dysfunction and neurourology for over 40 years" says Eric Rovner, MD, vice president of SUFU. "His vision, knowledge and skills have helped thousands of patients over the years.  Furthermore, he has trained nearly one hundred residents and fellows who in turn have treated untold numbers of patients all around the US and the world. It is not a stretch to say that he has forever positively influenced and changed the field in a monumental way".
Established in 2000 to recognize health care providers who serve as role models to others for outstanding contributions in research, education and clinical practice, NAFC's Rodney Appell Continence Care Champion Award raises awareness among a variety of professional societies and elevates the importance of addressing incontinence. A listing of all past award recipients can be found on NAFC's website, in the Hall of Fame. Renamed in memory of Dr. Rodney Appell in 2009, this award is in honor of Dr. Appell's dedication to patient education and advocacy. A special education fund, created to help continue Dr. Appell's legacy, has been established by NAFC.
About NAFC
For more than 30 years, the National Association for Continence has been the largest and most prolific consumer advocacy organization devoted exclusively to incontinence.  The NAFC is focused on education, collaboration and patient support, as well as increasing awareness of the various solutions associated with bladder and bowel health. The NAFC is a non-profit 501(c) 3 organization. More information is available online at www.nafc2dev.wpengine.com.