Amanda K. Berry, PhD, MSN, BSN, CPNP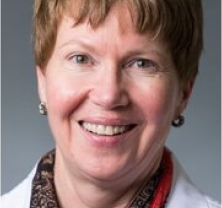 E. Ann Gormley, MD, is a Professor of Surgery (Urology) at Dartmouth-Hitchcock Medical Center in Lebanon, New Hampshire. She received a BA in English and her medical degree at the University of Saskatchewan. While completing her residency in Urology at the University of Alberta, she earned an MSc in Experimental Surgery. 
She then completed a fellowship in Female Urology and Voiding Dysfunction.  Dr. Gormley is a member of the Royal College of Physicians and Surgeons of Canada and is Board Certified by the American Board of Urology with sub-certification in Female Pelvic Medicine and Reconstructive Surgery.
Dr. Gormley' s interests are in female urology, voiding dysfunction and resident education. She was the Program Director for the Urology Program at Dartmouth-Hitchcock from 2001-2019 and now serves as the Associate Program Director. Dr. Gormley was awarded the ACGME "Courage to Teach" Award in 2015. Dr. Gormley was elected to the Geisel Academy of Master Educators in 2016.  She is a member of the Appointments, Promotions and Titles Committee for the Geisel School of Medicine at Dartmouth.  
Dr. Gormley was the Chairman of the NIDDK's Urinary Incontinence Network and is a Past President of the Society for Urodynamics, Female Pelvic Medicine and Urogenital Reconstruction (SUFU).  She is a Past President of the Society of Urology Chairmen and Program Directors (SUCPD).   Dr. Gormley was on the AUA/ABU Exam Committee and is an oral board examiner for the American Board of Urology. She recently completed a term on the ACGME Residency Review Committee.  Dr. Gormley previously served on the AUA Stress Incontinence Guidelines Committee and Chaired the AUA Overactive Guidelines Panel.  She is a former Assistant Editor for the Journal of Urology and Urology Practice. She is the Assistant Editor for AUA Updates.    Dr. Gormley is a member of the American Association of Genitourinary Surgeons.
Dr. Gormley is an Associate Member of the Committee on Certification for the American Board of Medical Specialties.  A Past President and Secretary for the New England Section of the AUA, Dr. Gormley currently serves as the New England Section's representative to the Board of the American Urologic Association. She has been selected to become a Trustee of the American Board of Urology and will begin her term in 2021.
National Association for Continence is a national, private, non-profit 501(c)(3) organization dedicated to improving the quality of life of people with incontinence, voiding dysfunction and related pelvic floor disorders. NAFC's purpose is to be the leading source for public education and advocacy about the causes, prevention, diagnosis, treatments and management alternatives for incontinence. More information is available online at www.NAFC.org.