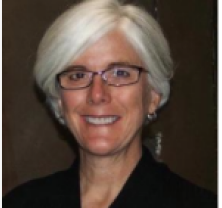 NAFC presented Rebecca G. Rogers, MD with the Rodney Appell Continence Care Champion award at the American Urogynecologic Society (AUGS) and theInternational Urogynecological Association (IUGA) joint scientific meeting in Washington, D.C. on Thursday, July 24, 2014. 
NAFC's Executive Director, Steven G. Gregg, PhD, presented the award sponsored by The Allergan Foundation, a US based, private charitable foundation focused on health and human services initiatives that support patient diagnosis and treatment, increase access to health care and improve quality of life. Rebecca G. Rogers, MD, is Regent's Professor, Director of the Division of Urogynecology and the Director of the Female Pelvic Medicine and Reconstructive Surgery Fellowship at the University of New Mexico in Albuquerque, New Mexico. Dr. Rogers graduated from Harvard Medical School, and completed her residency in Obstetrics and Gynecology and her fellowship in Female Pelvic Medicine and Reconstructive Surgery at the University of New Mexico. With her 22 years of clinical experience, she is a highly respected surgeon and clinician. In addition, she has published over 150 peer reviewed publications in leading journals and her research has been continuously supported by the National Institutes of Health (NIH) for the past nine years.  Her diverse research interests include the creation of a widely used sexual function questionnaire. She is dedicated to medical education and is extensively published in the area of teaching surgical skills. Dr. Rogers is a board examiner for the American Board of Obstetrics and Gynecology (ABOG), is a special editor to Obstetrics and Gynecology, an Editor for the International Urogynecology Journal and serves as the subspecialty representative to the American Congress of Obstetricians and Gynecologists (ACOG) Executive Board. She also served as AUGS President from 2009-2010. Donna Deng, MD, Chairman of the NAFC Board stated that, "It is an extreme pleasure for me to be able to recognize Dr. Becky Rogers as the latest recipient of the Rodney Appell Continence Care Champion Award. Dr. Rogers has made significant contributions to the field of Urogynecology over the years, in addition to a distinguished career as a physician and researcher, her service as a past President of AUGS is proof of her dedication and ongoing commitment to the field of continence care". Established in 2000 to recognize health care providers who serve as role models to others for outstanding contributions in research, education and clinical practice, NAFC's Rodney Appell Continence Care Champion Award raises awareness among a variety of professional societies and elevates the importance of addressing incontinence. A listing of all past award recipients can be found on the NAFC website, in the Hall of Fame. Renamed in memory of Dr. Rodney Appell in 2009, this award is in honor of Dr. Appell's dedication to patient education and advocacy. A special education fund, created to help continue Dr. Appell's legacy, was established by NAFC in 2009 and continues to remain an important part of NAFC's outreach efforts.
ABOUT THE NAFC
National Association for Continence is a national, private, non-profit 501(c)(3) organization dedicated to improving the quality of life of people with incontinence, voiding dysfunction, and related pelvic floor disorders. NAFC's purpose is to be the leading source for public education and advocacy about the causes, prevention, diagnosis, treatments, and management alternatives for incontinence.