CCC: CHRISTINE K. BRADWAY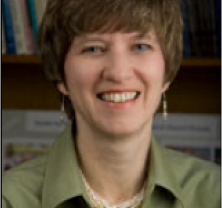 NAFC awarded Christine K. Bradway, Ph.D., the Rodney Appell Continence Care Champion Award at the Society of Urologic Nurses and Associates (SUNA) Advanced Practice Symposium in Nashville, TN on Friday, February 27, 2015.  The award was sponsored by Astellas Pharma US, Inc., a pharmaceutical company dedicated to changing tomorrow by improving the health of people around the world through innovative and reliable pharmaceutical products.
Christine K. Bradway, Ph.D. is an Associate Professor Gerontolocial Nursing at the University Pennsylvania School of Nursing. She maintains a clinical appointment with Genesis Physician Services where she provides urological consultation for frail elders.  Dr. Bradway received her BSN from Wilkes College and her Master's degree in Nursing and Ph.D. from the University of Pennsylvania.
Dr. Bradway is a highly respected nursing professional, author, researcher and educator.  She has practiced as a gerontologic nurse practitioner for over 25 years in a variety of settings including long-term care; community-based primary and specialty care and as a nurse clinician in a tertiary care setting.  Dr. Bradway has published an extensive number of peer reviewed journal articles and was selected, along with her colleagues, to receive the Best of Image Award for their article Functional Status Outcomes of a Nursing Intervention in Hospitalized Elderly. Her book Nursing Care of Geriatric Emergencies received an American Journal of Nursing Book of the Year award.  Dr. Bradway is the founder and former Director of the Penn Nursing Network Continence Program.  Her research interests include women with long-term urinary incontinence, transitional care for cognitively impaired older adults and those with other health care needs.
Steven G. Gregg, Ph.D, Executive Director of NAFC stated, "Dr. Bradway represents the very best in patient care."  It is a pleasure to recognize Dr. Bradway as the latest recipient of Rodney Appell Continence Care Champion Award. SUNA has always been at the forefront of care and management for patients with bladder and bowel conditions. Therefore we are thrilled to recognize Dr. Bradway, an educator, researcher and a patient advocate for all of her hard work".