How many patients have you talked to about Overactive Bladder in recent months? Chances are the number is lower than what it should be. Most people who live with Overactive Bladder don't get treated. In a recent NAFC survey, it was found that 4.5 out of 10 adults don't seek help for OAB.
Some learn to live with their symptoms while others suffer with a miserable quality of life. Sometimes, lack of seeking treatment is due to the patient's own embarrassment. Often, patients are unaware of the many treatment options available to them. In the NAFC survey mentioned above, 26% of patients who didn't seek treatment made this claim.
And, lack of treatment can pose serious risks to patients – people with undiagnosed OAB have reported loss of confidence, loss of self-esteem, and loss of intimacy.
This is where a Care Pathway can really help. Care Pathways aren't new – they've been around for a long time for various disease states and, essentially, provide patients and physicians with a proven path of care so that they understand all of their options at the start of treatment, and know their next steps if conservative treatments don't work.
A Care Pathway is a great tool for both patients and physicians to use as they work to find a treatment that works. The new OAB Care Pathway, sponsored by Medtronic, does just that. This Care Pathway is modeled after the OAB Guidelines created by the American Urological Association (AUA) and the Society of Urodynamics, Female Pelvic Medicine & Urogenital Reconstruction (SUFU).
The first step is to determine that your patient does in fact suffer from OAB. As with most treatments, starting with a conservative approach is best. Lifestyle changes, such as improving diet and exercise, and strengthening the pelvic floor, can often make a big impact in a person's symptoms. Of course, protective absorbent products should be recommended if leakage is a problem. If lifestyle changes fail, oral medications are a common next step, and a mainstay of therapy. These medications can help, but some patients may experience side effects that are too much to handle. In fact, studies have shown that many patients with OAB do not stay on medications long term – only 28% of patients remained on medications after 6 months in one study.
Unfortunately, all too many patients think this is their last option and many do not see a physician again. This is where a Care Pathway can really help a patient and physician who aren't sure what to try next. Luckily, patients who fail oral medications still have other advanced treatment options.
Advanced therapies can play a big role in the treatment of OAB. Sacral Neuromodulation is thought to target the nerves that are responsible for bladder function. Additionally, injected medications (Botox) block the signals that trigger OAB by calming the nerves and bladder muscle. Both of these may be treatments your patient may want to explore after trying oral medications. And, if these options don't work, surgical procedures may be an option.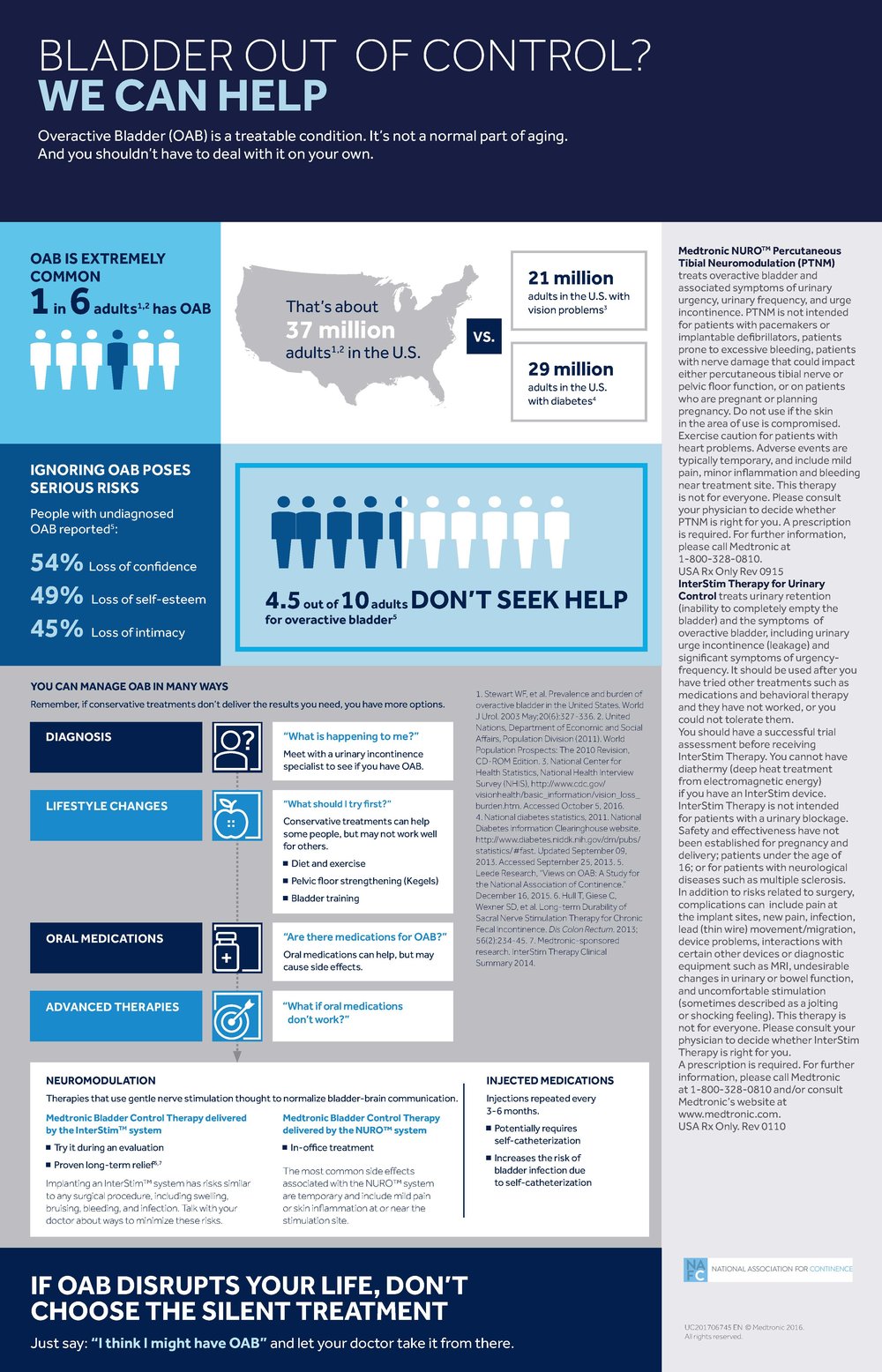 More education around options and knowing that there are advanced levels of treatments that are available to patients can help you not only in finding a new solutions for them, but may also help you get them to a better place faster. Knowing the proper transition of treatment options can also help to guide you when referring to a specialist.
We urge you to print out the OAB Care Pathway below and review it with your patients.
References:
1 Leede Research, "Views on OAB: A Study for the National Association of Continence." December 16, 2015.
2 Yeaw J, Benner J, Walt JG et al Comparing adherence and persistence across 6 chronic medication classes. J Manag Care Pharm. 2009:15(9): 724-736